I may be dating myself, but  I have been buying and thrifting vintage so long, my thrifting is vintage!I have been buying vintage clothing since I was in high school. It started with my friend Jenny and I going to local flea markets. I became obsessed with adding vintage 1970s clothing to my wardrobe. The first vintage item I ever purchased was a bright orange button down polyester dress. I wore it until it literally disintegrated. Then came the 60s and 70s mens flare jeans. I lived in them. I had a pair in dark black with bright white threading I probably wore weekly for about 8 years. I eventually donated them back into society, still in pretty great condition.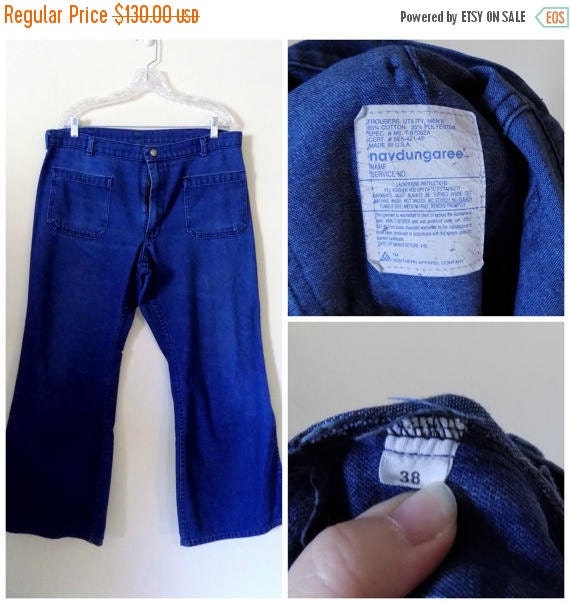 Vintage mens jeans from Valley Vintage!
I was bitten by the vintage bug then. I have been shopping vintage ever since 1993.
What I learned between 93 and now is that vintage clothing is strong as fuck! It is almost ridiculous how much of a beating older clothing can take and keep on going. I may be showing my age here, but it's just made better! I handle items from the 1930s - 1990s. I clean items, repair them as best I can. Usually older items need a little TLC. But even with these minor repairs - this stuff lasts! Vintage clothing is incredibly sustainable. That also means it's eco-friendly. Vintage clothing is the essence of reusing. This is a huge part of what endears me to it. It's such high quality that it can be used again and again throughout decades.
True vintage clothing must be at least 20 years old. At 20 years we experience the first wave of nostalgia as consumers. With nostalgia comes a yearning for relics from the past! With vintage you never really need to recreate a favorite decades look. Why recreate a style you're nostalgic for? The fact is that you can literally find and use the original fashions of that period. There is something exciting about being able to recreate a period of time in your life. Or visit another era with the change of a dress! 
To me vintage stuff is just cooler. I have always been a bit of a collector of things. As a teenager it was rare CD's and imports, and concert t-shirts, as a 20 something it was comic books and action figures. As a 30 something, it's still collect all of those things, plus vintage clothing and vintage decor. As an adult I express my love of decades gone by through my fashion choices and my home. I cultivate these looks to mix with my own taste and style. It gives my fashion and interiors a cooler one of a kind look. Over time these vintage pieces have dwindled in quantity. My pieces are not mass produced. They are harder to find and closer to originals. That to me, just makes them cooler!
Which comes to my final reason on why we love vintage. Why we seek it out and go out of our way to repair and breathe new life into it. Every piece of vintage has this feeling of love and tells it's own story. It just needs to find the right person that also has that feeling of love for it. It's kind of like falling in love. Everything I've held onto or has been passed down to me is true vintage. My dining room table was hand made by my great grandfather in the 1940s. It means something to me. It's like we share something special. Every time I look over at that table, I smile. Even though he's no longer with me, a piece of him always will be through that table. On a less personal note, I also have a favorite pair of vintage jeans. When I saw them I got that instant, oooh I need to try THESE on! I snatched them up and  I have kept for years. They hit me in all the right places, they are super comfy and broken in, and they give me a 60s and 70s feel no other item in my closet can. I feel great every time I put them on. I launder them carefully and never put them in the dryer, in hopes of keeping them as long as possible. I am the owner they were meant for. I love them! To me, that's IT. That's what it's all about! That feeling. That feeling that is like yes! This is mine and only mine! It BELONGS with me!  
That's why we vintage.