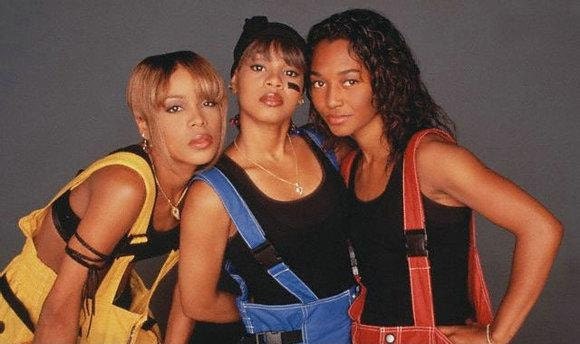 No, I don't want no scrubs – a scrub is a kinda guy that can't get no love from me. Hanging out of the passenger side of his best friend's ride, tryin' to holla at me! Remember that song? You probably do, since it was on the top of the charts for four weeks straight! Released in the mid-90's, hip-hop group TLC's single – No Scrubs – has been streaming through radio stations for twenty full years. So in celebration of their success, let's journey back to the 90's and see how T-Boz, Left Eye, and Chilli redefined fashion of their reign's decade! Back in the early 1990's when the group first formed, trends were already beginning to rapidly change. Flashy prints from 1980's no longer existed, and people began filling up their wardrobes with flannel shirts and ripped up jeans. It was all about the grunge, punk-rock look inspired by singers like Kurt Cobain and fellow Seattle rock gods. But with heavy influence from the hip-hop and rap music industry, artists like Destiny's Child and Snoop Dog pushed for hip-hop outfit trends that TLC heavily influenced. The ladies of TLC were known for drastic, bright block print colors, baggy pants, over sized t-shirts, and denim, denim, denim. Every appearance of the trio sparked controversy as their styles constantly changed, yet stayed coordinated with one another. So let's take a look at what they brought to the table.
1. Color Coordination was their definition for stepping out of the "norm". Frequently, the girls were depicted sporting off color coordinated, matching outfits that grabbed the tabloid's attention as well as the public. Bright colors are no doubt a way to have all eyes on you, and it was clearly evident when people began sporting outfits similar to theirs. Bright, neon colors were migrating into warbrodes everywhere.
2. They incorporated designer brand clothing with their street-style attire. Designer brands have always been mainstream, but when paired with a TLC's laid-back hip hop style, the ladies made their outfits both unique and casual. Name brands were also growing in popularity, especially active wear garments. Brands like Tommy Hilfiger, Ralph Lauren, and Dolce & Gabbana grew in popularity, surely with a little help from TLC. Well done ladies!
3. Overalls were their "thang". If you didn't rock overalls in the 90's, were you even relevant? Heck, even celebrities were strutting their stuff in them! TLC has been seen on numerous occasions coming to events and concerts sporting denim or colorful overalls, as seen above. Overalls were a staple trend in most American households. (and I say it should be back in style today.) It was surely nice to see the celebs rock them too in a unique way. TLC even stirred some controversy by sticking condoms on theirs, as seen on the picture on the right. Cheeky girls.
4. They rocked denim and graffiti. We all know denim and over sized t-shirts were popular, so it comes to no surprise that the girls would rock these outfits. TLC went through a phase of denim-street style attire, and even had the idea to graffiti their own clothing. This really was a turnover for fashion. Designers like Louis Vuitton and Tommy Hilfiger took some of the creative flows from this type of design and incorporated graffiti into their own clothing and accessories. Remember those white LV bags with the multi-colored graphics? You can thank TLC for making that look popular. So thank you TLC, for not only slaying the charts, but also slaying the fashion game with their wacky, unique sense of style. You really paved way for a 90's fashion takeover. The next time you try on those overalls I know you still have laying in the tubs in your basement, you should thank TLC for making them a fad in their time. Happy 20 years to not having any scrubs!